1. Non-Woven Geo Textile
At Manas, we offer a wide range of GeoTextile fabrics that are designed to perform distinctive functions, such as separation, filtration, drainage, cushion, and reinforcement. These pre-engineered solutions are cost-effective as well as time-saving for different applications, including ground stabilization, coastline and riverbed protection, landfill engineering, drainage and others.
We manufacture Geo Textiles at our manufacturing facility in Haryana where we have European fully-automated needle punching machines for manufacturing products with world-class standards. We use polypropylene/ polyester staple fiber for manufacturing Non-WovenGeo Textiles with a precise needle punching that lead to the formation of a strong and flexible structure with high permeability. We have a large production capacity and we can deliver our products to your project sites in a timely manner. The products are tested in our in-house laboratory before delivery.
Product Specification:
Unmatched finish as per the international standards
Strong and durable due to online calendaring
Available in widths up to 5 meter.
Carbon Black is Added for UV protection
Quality Tested products
a) Non-Woven Geo Textile of Small Widths for Pasting
We also supply nonwoven geo-textiles of smaller widths to be used for pasting at project sites. These are cut uniformly by automated machines and can easily be pasted at sites, without a need of cutting them manually. While it saves time and labor, it also helps maintain the surface smoothness, which otherwise may not be possible by manual cutting.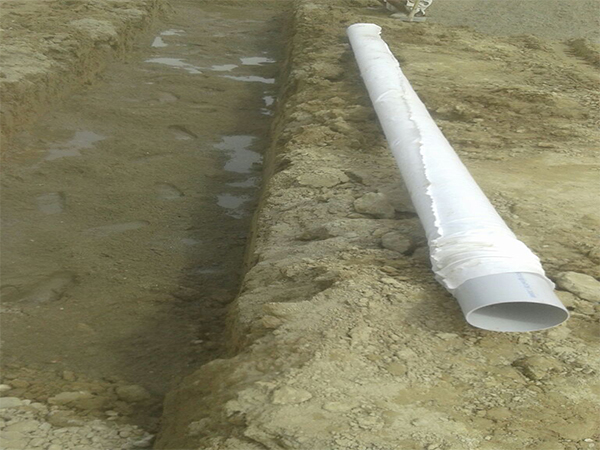 b) Non-Woven Geo Textile of customized widths for PVC Pipe Wrapping
We also manufacture nonwoven geo-textile of custom widths that are suitable for wrapping on PVC pipes. The geo-textile wrapping acts as a shock cover layer for perforated PVC pipes. The textile fabric is largely used in subsurface drainage projects in India to prevent sand and gravel from entering the PVC pipe and blocking it. The geo-textile fabrics are available in custom widths of 0.1 Meter to 5 Meter for wrapping perforated PVC pipes.
2. Geo bag
Manas manufactures high strength Non-Woven Geo Bags for Coastal Protection. These bags can be filled with sand and are used for riverbed, beach and coastline protection. These bags form a low-cost, reversible solution for the protection of hydraulic structures by reinforcing the existing barriers of the river banks, beach fronts and other water bodies. In comparison to conventional practices oF using gravels and hard rocks for erosion protection, sand-filled Geo Bags are an effective, low-cost alternative. Bags can be filled with locally available sand, instead of transporting boulders which can incur high costs.
We have an in-house capacity of producing various types of Geo Bags, including 300 GSM Geo Bag and 400 GSM Geo Bag, made out of polyester and polypropylene Geo Textile. We can also customize the bags sizes to suit the design and installation requirements of a project. Our Geo Bag manufacturing unit boasts of the latest machines to help us achieve the best quality and a very high production output.
Product Specification
Conforms to global standards
Available at affordable prices and in custom shapes and sizes
Easy installation without any strenuous or labor-intensive efforts
Low transportation cost and less space required for construction works
Construction material like sand is locally available
3. Geo Composite
With the conventional well graded filter, there are chances for the clogging of filter in longer duration and will affect the drainage functioning severely. Especially for reinforced soil wall applications, our utmost need is to avoid increase in pore water pressures.
Geo Composite is designed with inner core for drainage and outer jacket of Non-Woven Geo Textile for filtration.
There are numerous advantages for the use of drainage composites in various applications as listed below:
Cost effective over conventional drainage layer.
It is light and easy to handle
Acts as drainage and protection layer
Provides and maintains high flow paths for water and gases, hence maintaining soil stability.
Filtration properties are suitable for most soil types.
Robustness of drainage composite prevents puncturing and tearing during installation.
Manas Drainage composite is a cost effective alternate solution to the conventional system and now a days there is a scarcity of conventional filter material in most of the areas so it is indeed a step towards saving of our national assets too.