welcomeAbout us
Manas Geo Tech India Pvt. Ltd. is a leading and socially responsible manufacturer of Geo-Synthetics, which has wide usage in civil, mechanical and environmental engineering applications today. The founders of Manas have been involved in key infrastructure and construction activities since 1996.
At Manas, we adopt sophisticated technologies and processes to manufacture superior quality Non-Woven Geo Textile & PVC Geo Membrane, suitable for a wide range of applications. With our specialized production plant and fully-automated manufacturing process, we are capable of producing world class Geo-Synthetic products to meet the unique requirements of infrastructure developers, project consultants, construction industry professionals, builders, contractors, designers and institutional buyers in India and abroad.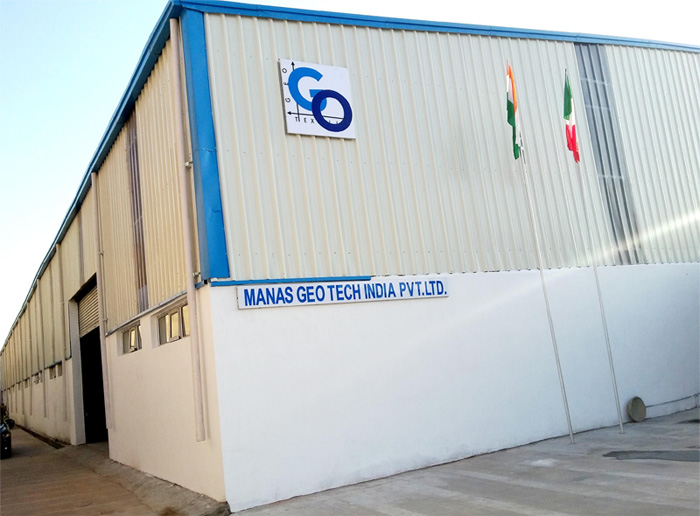 Headquartered in New Delhi, Manas has sales offices in Mumbai and Bengaluru and has a well-equipped manufacturing facility in Haryana, Near it's Headquaters. Our manufacturing setup features technologically advanced machinery, such as Needle Punching German machines that help maintain the needle precision, quality, texture and strength of the Geo-Synthetic fabric produced by us. Considering the unique challenges that our clients may face while working on infrastructure, civil, mechanical or environmental projects. We continuously upgrade our equipment to comply with the latest technologies and the international standards. We have a team of highly qualified and experienced engineers who are capable of designing the best quality solutions to meet the emerging demands of the industry.
Moreover, at Manas, we believe in designing and supplying quality products that are completely. We have a fully operational laboratory, complete with all required testing equipment, to make sure the product is delivered after a meticulous quality assessment ensuring compliance with international standards.
Aims & Objectives
At Manas Geo Tech India Pvt. Ltd., we aim at becoming a global leader in the fields of Geo-Synthetic products, by maintaining the quality, innovation and trustworthiness with our technological prowess and a commitment to supplying the best quality products at competitive prices.
Our objective is to provide clients with world class products, allowing them to design and implement economically viable, environment friendly and reliable solutions to fulfill the requirements of a wide range of construction, infrastructure development, transportation, environmental and other applications.