Waterproofing of Tunnels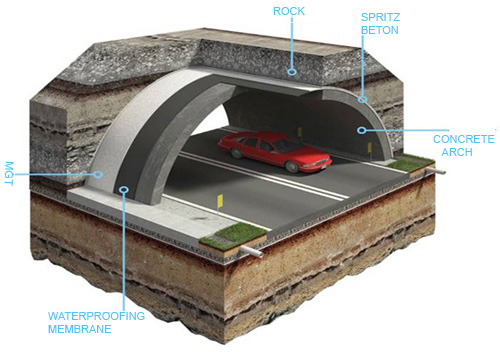 Tunnels need to be protected adequately against the effects of groundwater that often penetrates through rock fissures. Our geo-synthetic fabrics are designed to ensure functional waterproofing of tunnels. While it helps in maintaining the performance and smooth flow of traffic through the tunnel for years, on the other hand, it also helps saving the maintenance cost.
Non-Woven Geo Textile along with Geo Membrane successfully carry the water along its plane into the side ditches , Manas Geo Textile are manufactured with high In Plane Permeability so it can successfully carry the water along its surface.
By maintaining a hydrological water balance, the waterproofing is a reliable and economical solution for protecting tunnels against the potential mechanical damage due to the aggressiveness of the mountain water.