Non-Woven Geo Textile
At Manas, we offer a wide range of GeoTextile fabrics that are designed to perform distinctive functions, such as separation, filtration, drainage, cushion, and reinforcement. These pre-engineered solutions are cost-effective as well as time-saving for different applications, including ground stabilization, coastline and riverbed protection, landfill engineering, drainage and others.
We manufacture Geo Textiles at our manufacturing facility in Haryana where we have European fully-automated needle punching machines for manufacturing products with world-class standards. We use polypropylene/ polyester staple fiber for manufacturing Non-Woven Geo Textiles with a precise needle punching that lead to the formation of a strong and flexible structure with high permeability. We have a large production capacity and can deliver our products to your project sites in a timely manner. The products are tested in our in-house laboratory before delivery.
Product Specification:
Unmatched finish as per the international standards
Strong and durable due to online calendaring
Available in widths up to 5 meter.
Carbon Black is Added for UV protection
Quality Tested products
a) Non-Woven Geo Textile of Small Widths for Pasting
We also supply Non-Woven Geo-Textiles of smaller widths to be used for pasting at project sites. These are cut uniformly by automated machines and can easily be pasted at sites, without a need of cutting them manually. While it saves time and labor, it also helps maintain the surface smoothness, which otherwise may not be possible by manual cutting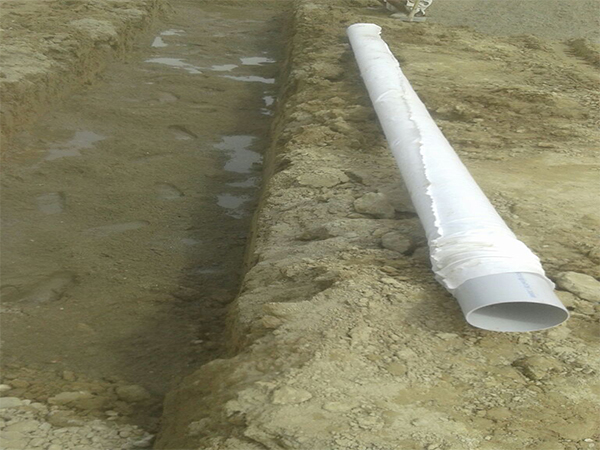 b) Non-Woven Geo Textile of customized widths for PVC Pipe Wrapping
We also manufacture Non-Woven Goo Textile of custom widths that are suitable for wrapping on PVC pipes. The geo-textile wrapping acts as a shock cover layer for perforated PVC pipes. The textile fabric is largely used in subsurface drainage projects in India to prevent sand and gravel from entering the PVC pipe and blocking it. The geo-textile fabrics are available in custom widths of 0.1 Meter to 5 Meter for wrapping perforated PVC pipes.